Seminars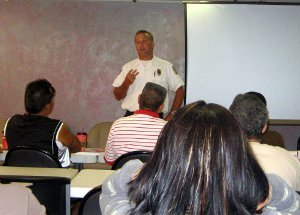 Hazardous Material HM181 & HM126F:
The hazardous material regulations are constantly changing. Significant changes were brought about in two dockets; Docket I (HM-200) Intrastate Transportation of Hazardous Materials; and Docket II (HM-206) Improvements to the Hazardous Materials Communication Requirements. These dockets have imposed new requirements on both shippers and transporters of hazardous materials, which significantly impact the way business is conducted. Most of these new requirements are in effect now, but compliance was mandatory by October 1, 1998.
It is important that shippers and transporters are aware of and conversant in these new requirements in order to properly ship and transport hazardous material. National Safety Compliance, Inc. offers you this opportunity to learn how these new rules will impact your operations. This seminar is designed to train all transportation, warehouse, and customer service personnel, as well as independent contractors that are responsible for the shipment, receipt, handling, and transportation of Hazardous Materials on these new regulations. Please contact us for upcoming dates for this seminar.
Hours Of Service:
One of the most misunderstood regulations and the most cited violation during inspections or audits by State and Federal Law enforcement officials are Hours of Service. National Safety Compliance, Inc. offers this seminar to transportation companies that are required to keep log books and time records. You will learn how to manage a compliant hours of service program for your company with emphasis on auditing driver logs, an over-view of hours of service regulations, and falsification violations. The seminar will also cover myths and misconceptions about log books and explore the new intrastate vs interstate hours of service regulations . This seminar is very popular and it is advised you sign-up early, as the class sells out quickly.
Pre-Trip Inspection Seminar:
The Pre -Trip inspection is one of the most important vehicle safety inspections that one can perform on a commercial vehicle. The purpose of this seminar is to educate drivers and supervisors on how to conduct a proper pre-trip, en-route, and post -trip vehicle safety inspection. Proper procedure, documentation, and safety component education will be discussed along with new regulations that affect the inspection process. Learn how to inspect and adjust brakes properly and find out what Law Enforcement officials are looking for during a roadside inspection. Contact us today to find out when our next seminar is taking place. (Seminar Length Approx. 1 1/2 hours)
Defensive Driving Seminar:
Contact us for details.
How To Survive a D.O.T. / C.H.P. Audit Seminar:
It is essential for motor carriers to achieve a "satisfactory" rating from the U.S. Department of Transportation and the California Highway Patrol in order to keep their operating authority. This seminar covers the terminal inspection performed by the authorities and will provide you with the proper forms you will need to pass the audit. Learn about hours of services records, inspection and maintenance records, pull notice programs, driver qualification records, drug and alcohol testing records, insurance requirements, and hazardous material records and requirements. This seminar will ensure that you are well prepared for these audits and will give you confidence that your safety program is in Satisfactory condition. Contact us today for times and locations of the DOT/CHP Audit Seminar. (Approx. 1 1/2 Hours)
Supervisor Training for Drug & Alcohol Testing Seminar:
Federal Motor Carrier Safety Regulations (49 CFR Part 382) require that supervisors undergo a minimum of One hour of training on substance abuse and One hour of training on Alcohol Misuse Reasonable Suspicion determination. This seminar is designed to meet these requirements and will educate the supervisor on how to detect substance abusers in the workplace. Learn the critical aspects of the drug and alcohol regulations as well as the many myths and misconceptions of administering a drug and alcohol testing program. This seminar will keep you informed of all regulation changes including the newly revised 49 CFR Part 40 regulations and also give you a chance to voice your concerns and opinions on the drug and alcohol testing regulations. Contact us for the time and location of this seminar. (Approx. 3 hours)
Send enrollment requests to seminars@nsc2000.com